An Interview with Xuan-Thu Ngyuen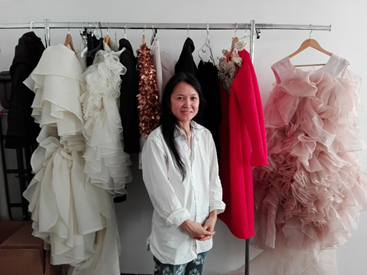 On the occasion of the haute couture week, Label'Emotion had the opportunity to attend the fashion show of the stylist Xuan-Thu Nguyen at the Nikki Diana Marquardt Gallery.
This young designer has a style of her own that draws inspiration from her different roots. Indeed, of Vietnamese origin, she is a migre in the Netherlands, finally settling in Paris.
We met again in her small workshop in the 2nd arrondissement where we could meet her team and dazzle me with pieces from her collection. Through our exchanges, I understand that the luxury of her pieces lie in the perfect mix between craftsmanship and the aerial beauty of her creations. Each of her unique and original achievements.
This rising star of the world of fashion makes a noteworthy passage during the week of fashion in Paris. Her projects … a new collection in September and the customized wedding dress design!
So, when two equally passionate universes meet, it is impossible to circumvent each other. Label 'Emotion is proud that its image is associated with that of Xuan Paris.
Can you tell us more about your brand? What you want to convey and reflect / who are your suppliers / what sets you apart 
I create from what I see. My creations are a reflection of what I feel internally. I work with a wonderful and talented hatter here in Paris.
Our fabrics come from Japan, Italy, France or England. I work mainly with noble materials such as silk or cotton. But of course, I also work with blends.
We have our own workshop here in Paris, where we make most of the complicated and handmade pieces.
What sets me apart is the fact that I create what I feel and always try to improve techniques or cuts, or change the traditional way of using materials, to use them in a new way, The way of an artisan.
What are your sources of inspiration?
Life is the greatest that one can have. It is a continuous path of development and change.
What colors and fabrics do you like?
I like off-white because it shows all the details of technique, cutting or your manual work. And because it's the mix of all colors.
What do you think is the definition of luxury?
For me luxury means "quality", durable, renewable and how you adopt it when you wear a garment. It is a matter of comfort and how happy one feels.